If you're looking for a new podcast, Anna Faris has you covered. Her relationship advice show, "Unqualified," is super entertaining and at times pretty profound.
You know Faris from a long string of IMDB credits, from "Scary Movie" to "The House Bunny" to "Keanu" (when she played herself in a hilarious cameo). I got to spend a few minutes photographing her on the Ave in U District, where she used to hang out as a college student at the University of Washington.
Here's a look at my two setups. The first was a vintage radio host setup. I was returning something at Guitar Center in South Lake Union and saw this microphone in behind the glass. I thought it would go great with her hair and a burgundy backdrop. So I asked about renting the mic — it only cost $25! — and then headed to Glazer's for the backdrop. As for the wood: It's a piece of plywood that I covered with a colonial maple stain from Home Depot.
The second setup was a white backdrop with a throwback UW sweater, which Anna loved and wore to the event she was speaking at later in the night. Her new book, by the way, is called "Unqualified." Check it out!
Anna was also nice enough to pose with some very excited fans:
Here's a look at a picture in print, for Columns Magazine of the University of Washington: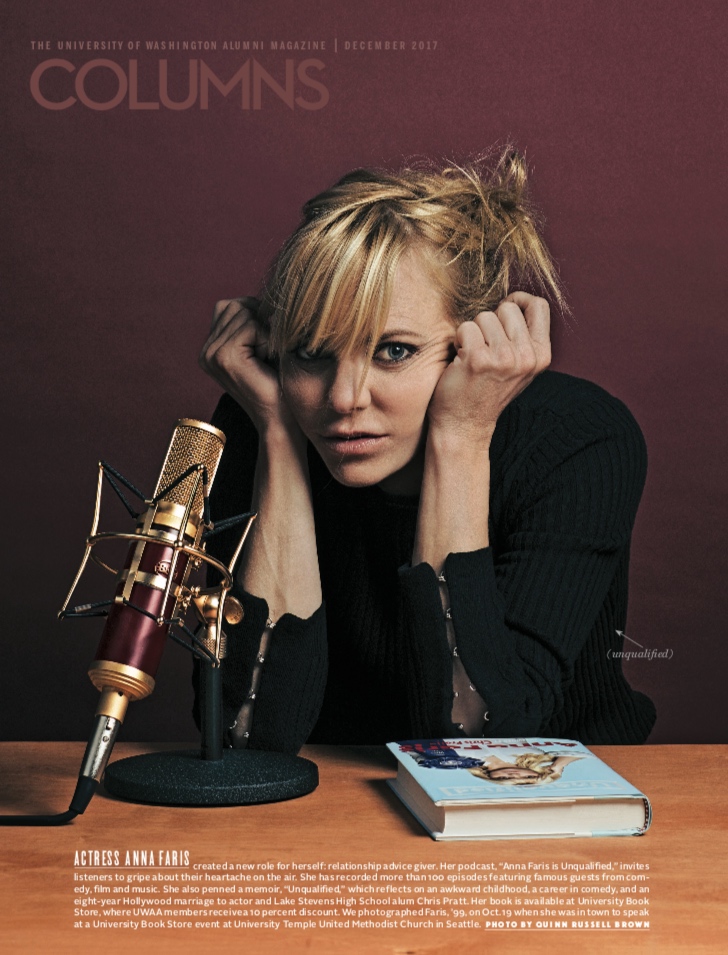 Columns Magazine, December 2017